Island Guide: Where to Stay in Bermuda
What often surprises most people about Bermuda (beyond its location, hanging out alone in the middle of the Atlantic off the coast of the Carolinas) is that our tiny island does not have all-inclusives like the Caribbean and Mexico, chains of any kind, or Ubers and modern conveniences of the like. Bermuda is known for its isolated authenticity. Which is what makes Bermuda so mysterious and magical!
Here are my personal picks for a truly authentic stay in the Mid-Atlantic.
ICONIC BEACH CLUBS...
The Coral Beach & Tennis Club
The Coral Beach Club is always my top recommendation! But, you need to be recommended by a member to stay here or have a reciprocal membership from a club you are connected with. 
Coral Beach Club is simply iconic. CBC's views and the pink sand stretch of beach it sits on are legendary. The retro club is stuck in time, but in the best way... It's out-of-old-Hollywood glamorous! Backgammon boards fill the living rooms, croquet is played on the main lawn, and sunset cocktails overlooking the Longtail Terrace are majestic. Jackets are required for dinner.
Tennis whites on the courts. Non-member rooms during high season typically start at $650.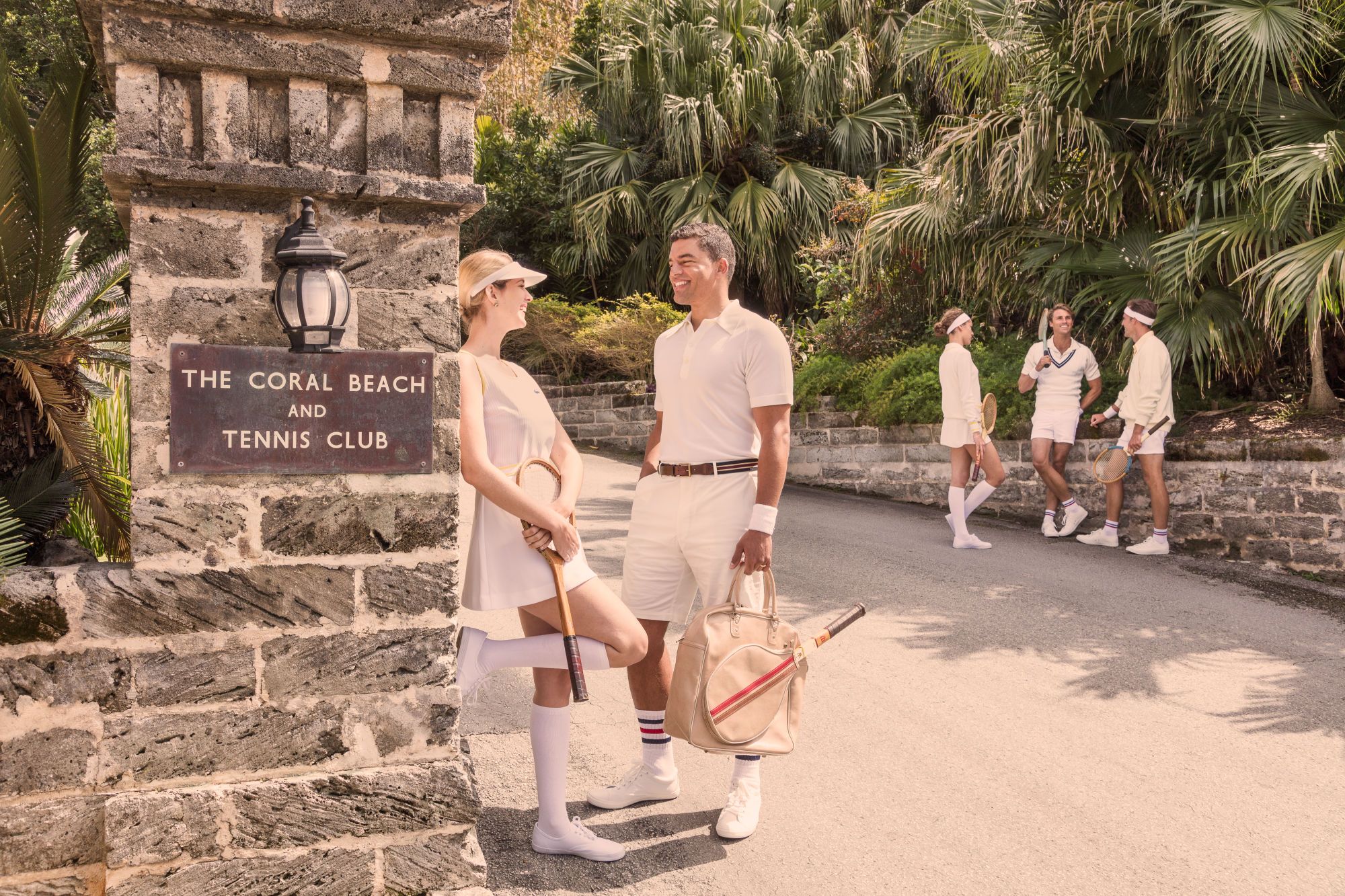 The Royal Bermuda Yacht Club
Another "insider" secret place to stay is the Royal Bermuda Yacht Club. Established in 1844, the Royal Bermuda Yacht Club acquired its Royal Charter in 1846, making the RBYC the 20th Royal Yacht Club in the world and one of the oldest in the Western Hemisphere. Like Coral Beach Club, it is only open to guests of members and members of reciprocal yacht clubs. If you're a solo traveler, the location is quite nice because you are right in town and are steps away from the bars and restaurants on Front Street. Also, you are just around the corner from a ferry stop, which is extremely helpful for tourists looking to buzz around the island and explore. Lunch and sunset cocktails here are so picturesque overlooking the marina and the harbour. Rooms typically start at $250. 
Eccentric English Island Cottage Charm...
The Salt Kettle House
For the budget traveler, looking for an English countryside-meets-island experience, I highly recommend the Salt Kettle House. Friends have stayed here many times and love the weathered charm of this waterfront B&B that's located steps away from the ferry stop, which will take you all over the island.
The ferry stop's proximity is a game-changer when exploring the island, as getting around Bermuda can often be challenging for tourists. The brother-and-sister team who run this B&B are lovely and are known to make grocery and airport runs for their guests. Plus, rooms here are often $100-$175 a night! 
For The Luxury Traveler...
The Rosewood at Tucker's Point
If you're the type of traveler who seeks nice crisp sheets on a perfectly plump hotel bed and 24/7 room service, I recommend The Rosewood at Tucker's Point. The property is definitely the most luxurious hotel on the island. Recently renovated in 2018, it caters to those looking for a plush, five-star trip. My favorite part about this hotel is access to the Beach Club at Tucker's Point, only hotel guests and club members have access to these pools and this oceanfront club (that's only open March through November). Whether you're a hotel guest or not, I do recommend a game of croquet on the Rosewood's central lawn before sunset cocktails at the hotel's Conservatory Bar overlooking Castle Harbour. Rooms typically start at $600. 
For the traveler looking for the truest Bermudian experience...
Cottage and Estate Rentals
Especially this summer, since we are still living in a pandemic world, I would personally recommend renting a house or cottage. There are so many enchanting rentals in Bermuda. The only caveat: You would likely want to rent a Twizy or motorized scooter (tourists are not allowed to rent real cars), because you will need to make grocery runs and drive freely to explore the beaches (there are taxis in Bermuda, but they are expensive and oftentimes hard to coordinate if you are off the beaten path). If you rent a house or stay at AirBnB, I highly recommend downloading the Sargasso Sea app (it's the island's version of Seamless/Door Dash and is a life-saver if you need delivery food, wine/beer, and even pharmacy items.
The Ledgelets Cottage Cottage Colony
Located in Somerset, this charming cottage colony is run by my fabulous friend Alison and her husband John (the property has been in their family since the 1930s, and John's family has lived in Somerset for over 275 years). The Bermudian duo knows everything there is to know about the island, and will be your ultimate source of intel if you have the pleasure of staying at their piece of paradise. From secret fish markets to the best Bermudian pubs and where to play croquet, they can direct you to experiences only locals have access to!
Fun Fact: When Gray Malin flew to Bermuda for his island series, he shot many of his now iconic photos poolside at the Ledgelets.
What's more: Alie is a passionate party planner and can help you plan an intimate wedding, island cocktail party, or even just a secluded dinner for two, with the most creative touches.
 Visit theledgelets.com to book a cottage.
Classic Bermudian Homes with Historic Charm
Weathered, waterfront villas like this charmer are why Bermuda oftentimes evokes Capri.
Historic 1780s Beach House
Located on the West End of the island near Dockyard, this amazing historical beach house would be a truly Bermudian experience if you are traveling in a large group. The house is steps away from the water and right next door to a marina that rents boats. This house also has two chargers for Twizy rentals. As I mentioned above, if you are renting a home, I highly recommend renting a Twizy so you can buzz around the island without having to call a taxi. Sleeps 16.
Averages $1356 a night, book on VRBO.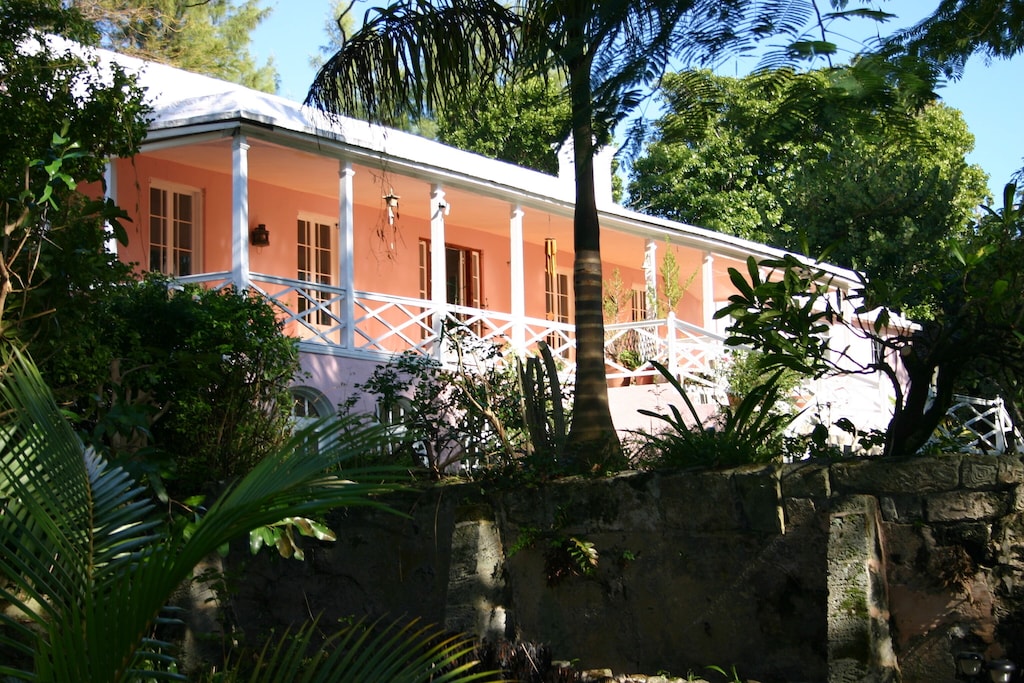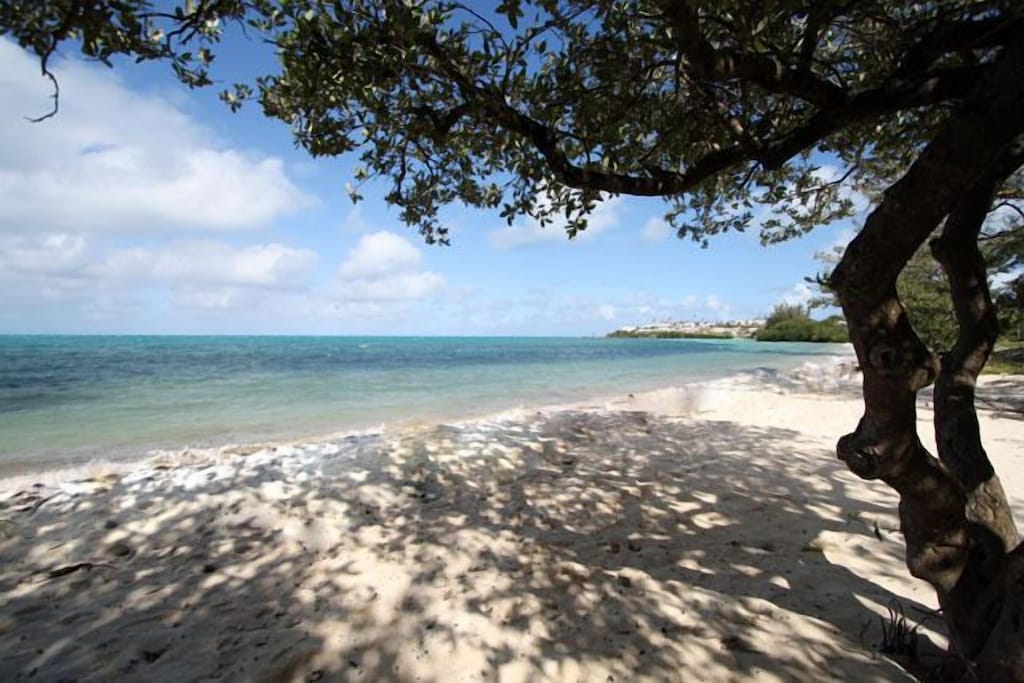 Historic Harbourfront Cottage
This circa 1760 Harbour-front cottage is apart of a historic estate called Spithead. A lovely home to host waterfront dinners or to book hire Bermuda Electric Boat Co. to pick you up for an evening cocktail spin! Sleeps 2.
Averages $220 a night, book on VRBO.